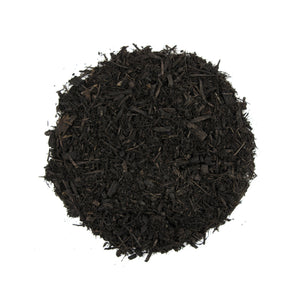 Black Organic Mini Mulch
Regular price $119.00 $109.00 per yard³ Sale
Serving the East SF Bay Area. Next-day delivery starts at 1 yard³ and delivery is free on 3+ yards³.
You choose the date & time of delivery.

Satisfaction guaranteed.

Questions? Contact us at (925) 577-2454 or help@mulchery.com
About This Product
The stunning contrast and manicured look our black mini mulch gives your landscape is unmatchable. No wonder is the mulch preferred by realtors when selling homes!
3/8

″

- minus in size.

Perfect for planted areas as it also works as a soil enhancer.

100% pet and family safe.
Keeps your yard mud-free.

Protects your plants' roots by moderating soil temperature.

Minimizes soil erosion and compaction.

Reduces water use by conserving soil moisture.

Improves soil quality as it decomposes.

Inhibits weed growth, decreasing garden maintenance.
†
One yard³ equals 13.5 bags of mulch and covers about 100 square feet.